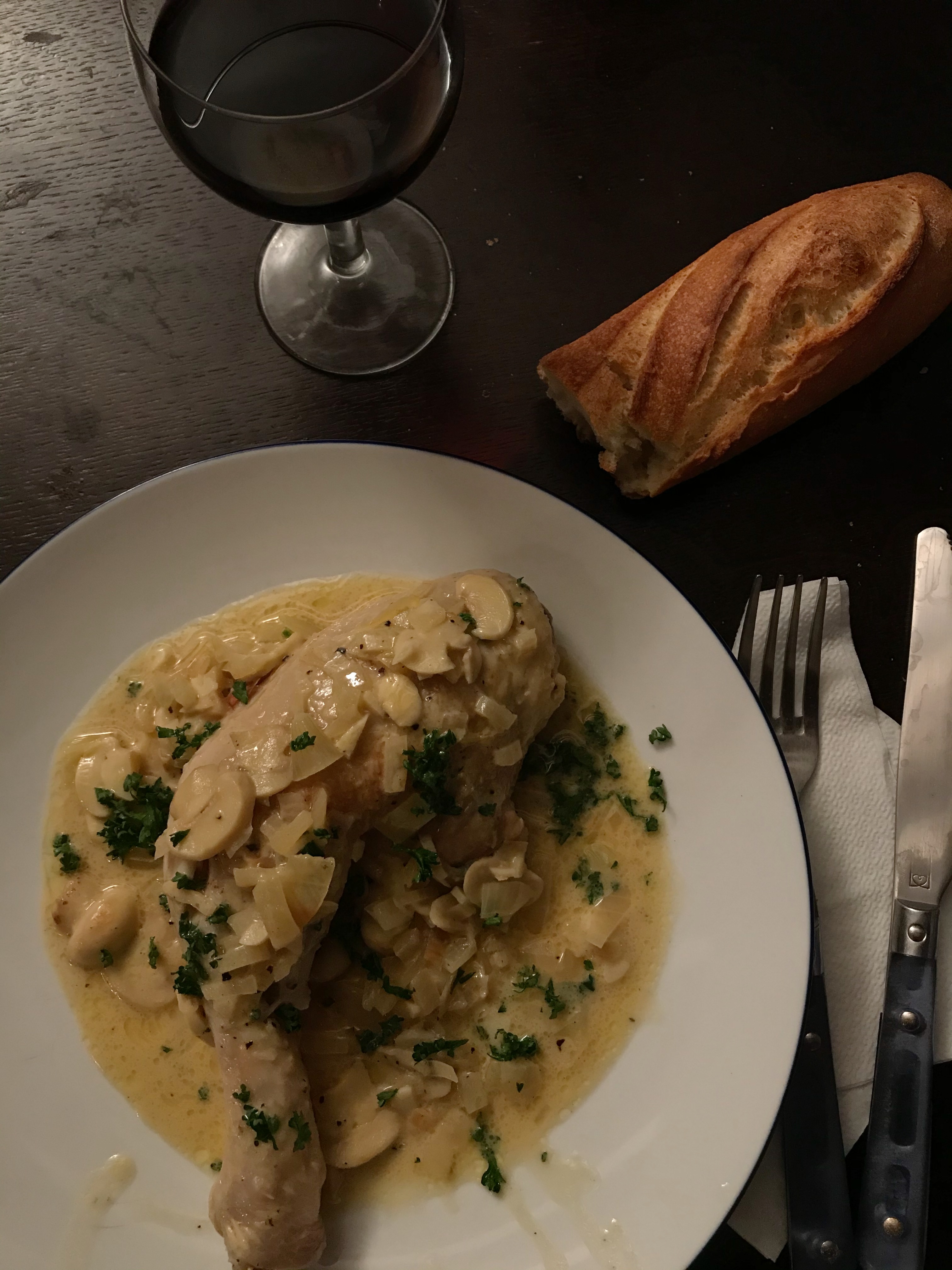 Total Prep time:
50 mins
Get ready to shave hours of cooking off with my version of a Coq Au Vin. It's made with white wine instead of red for a chic twist and the perfect dish to impress. I'd been wanting to cook a traditional French dish since we moved into the new apartment. The kitchen in the last Airbnb was cute and all, but not ideal for heavy duty stuff. I loved how the sauce came out. Don't forget to have fun with this one, if you wanna add carrots, add them. I'd like to treat recipes as a side guide.
Ingredients:
Chicken (Depending on your pan, get the amount that is right for you) 4 pieces.
Salt and freshly ground black pepper
2 big tablespoons of  butter ( i used salted)
1 yellow onion
4 cloves or garlic
1 pint of white or cremini mushrooms, sliced
2 cups of white wine
1 tablespoon of mustard
1/2 cup of heavy cream
Chopped fresh parsley
Directions:
Season the chicken with salt and pepper in a large skillet, melt butter over medium heat. Add Chicken to skillet and cook on both sides till brown. 5 mins
-Remove the chicken from the skillet and set chicken aside.
Add onions and sauté till it becomes translucent. 5 mins. Add Garlic and mushrooms till tender. 5mins.
Time to add the chicken to the skillet. Pour in the wine and stir in the mustard.
Bring mixture to a simmer over low(ish) heat till the chicken is almost cooked 16-20mins
-uncover the skillet and add in the heavy cream. Let simmer till the sauce thickens and the chicken is fully cooked. 10mins or so.
Taste test the sauce, ask yourself if it's missing anything! I sometimes add more mustard, maybe it needs more cream? This is the fun part about making a sauce. You are making it your own!
-Garnish with Parsley and serve immediately.
*Leftover tip* : Don't throw away the sauce!  If you have a lot left (which you might) Freeze it to use at a later date. or refrigerate to make leftovers with rice later that week!!