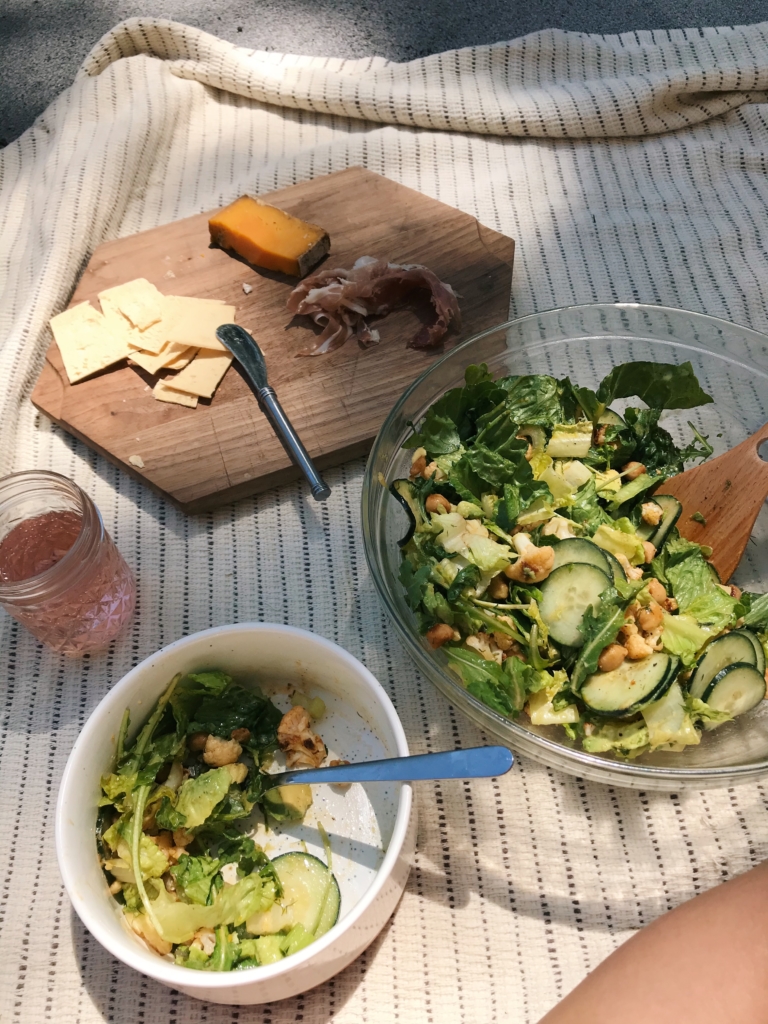 And on the 58th day she ate a salad. After a fistful of weeks ordering random shit on Uber Eats I decided enough was enough. I made this salad for Cinco de Mayo and after a few days of perfecting it I believe it's ready to be put out into the world. Can a salad ever reach perfection?...Maybe this one has.
I like to start my reciepes off by saying "Make It Your Own!" Add to it, take away, do your own measurements. After all recipes are made to be adjusted to your liking.
Ingredients (serves 2-3):
1 Cauliflower cut into florets (3 cups or so)
half a  can of chickpeas
Paprika
A few fistfuls of arugula
Half of romain lettuce
Half a cucumber (sliced)
Half an Avocado
1/4 cup of dill (or parsley, basil) roughly chopped
1 celery stalk chopped
handful of crumbled feta
Honey mustard vinaigrette:
1/4 cup of olive oil
Juice 1 lemon
2 tablespoons of dijon mustard
2 tablespoons of Agave (or honey..I liked the agave better)
Salt & Pepper
1) In a bowl, combine the cauliflower, chickpeas, olive oil, paprika & salt and pepper to taste. Toss well to evenly coat. Transfer to the stove and sauté over medium heat. (if you have time try marinating the cauliflower coated in paprika for 20mins or so).
2) in a large salad bowl, combine the mixed greens, cucumbers, herbs, and celery
3) Get started on your dressing wisp in a small bowl. Take some greens and dip into the vinaigrette (for taste) and adjust to you liking.
4)Toss the cauliflower and chickpeas in with the salad. Add a little of the vinaigrette and toss to combine. Top the salad with avocado and feta cheese. Serve and enjoy!
Chef's tip:  Some fun things to add would be sliced cherry tomatoes, chives, roasted asparagus...